As June marks Pride Month, Nikko Asset Management continued its commitment to the LGBTQ+ community through initiatives spotlighting issues the community faces and promoting support both internally and externally, not only in June but throughout the year.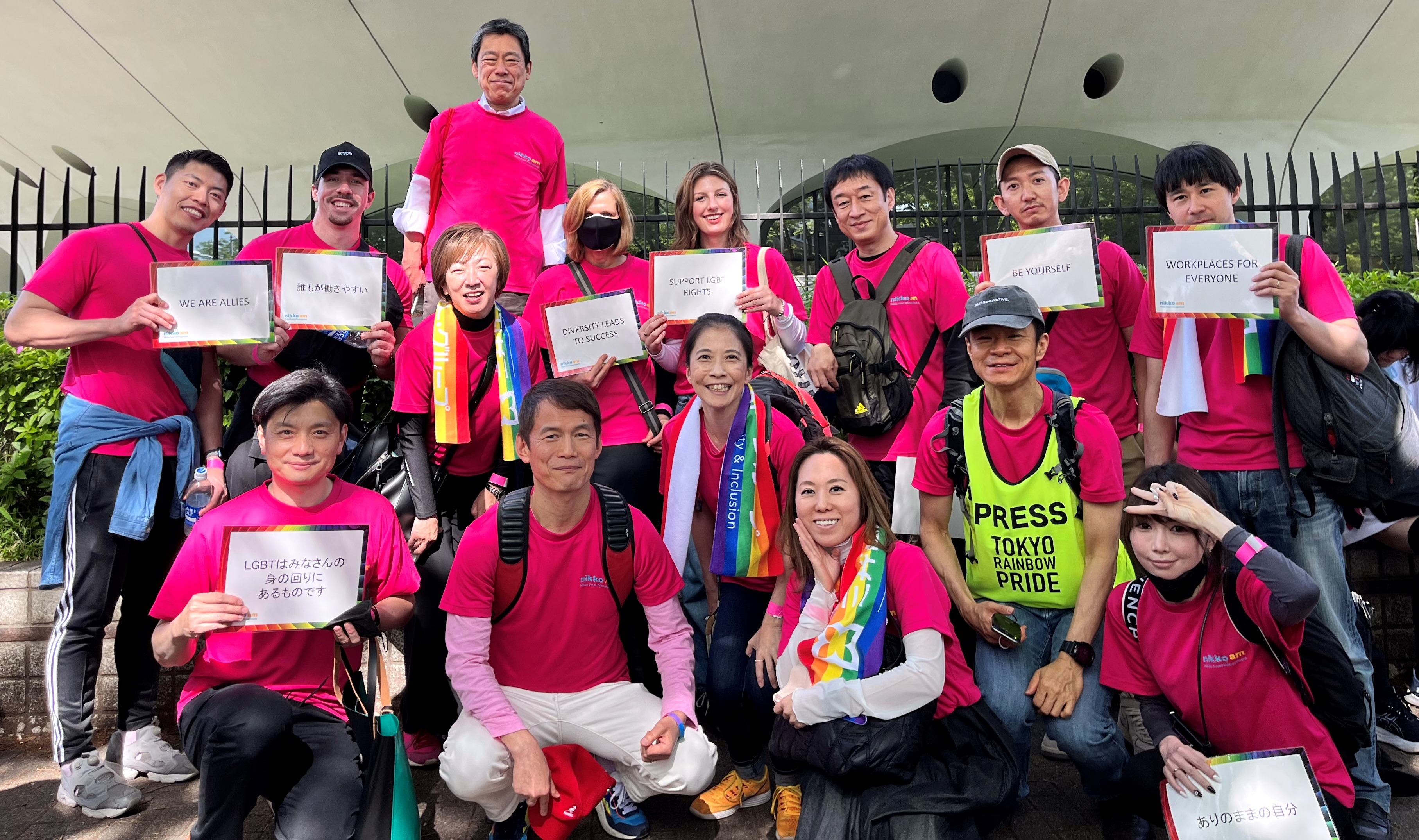 In April, Nikko AM participated in Tokyo Rainbow Pride for the sixth consecutive time under the banner of LGBT Finance, with Executive Chairman Yutaka Nishida, President Stefanie Drews, and Global Executive Committee Member and Executive Sponsor of the Japan LGBTQ Group, Kunihiro Asai, marching alongside Nikko AM employees in the Pride Parade. We were delighted to be joined by our sister company at the event, Sumitomo Mitsui Trust Bank (SMTB), a partnership that serves to amplify our collective message of equality and acceptance.
Deepening our partnership, on 13 June we conducted a seminar in partnership with SMTB where our sister company introduced Sumitomo Mitsui Trust Group's Ally Network - an effort that Nikko AM will use as a template to build its own Ally Network in the coming fiscal year. The seminar also included an introduction to the Japan LGBTQ Group's initiatives, as well as introducing our partnership with LGBT Great, a global alliance of financial institutions of which Nikko AM was the first Japan-headquartered asset manager to join.
At this event, we were proud to announce that Yukitoshi Akao, co-lead of the Japan LGBTQ Group, was selected by LGBT Great as one of their Top 50 Executive Allies for 2023. Akao's commitment to LGBTQ started with an idea at the Idea Generation Forum in 2017 which led to the creation of the LGBTQ Group. It was the beginning of a series of sustainability initiatives and subsequent groups such as Women, Abilities, Environment, Philanthropy and Racial Equality, which have since become a significant part of our organisational culture.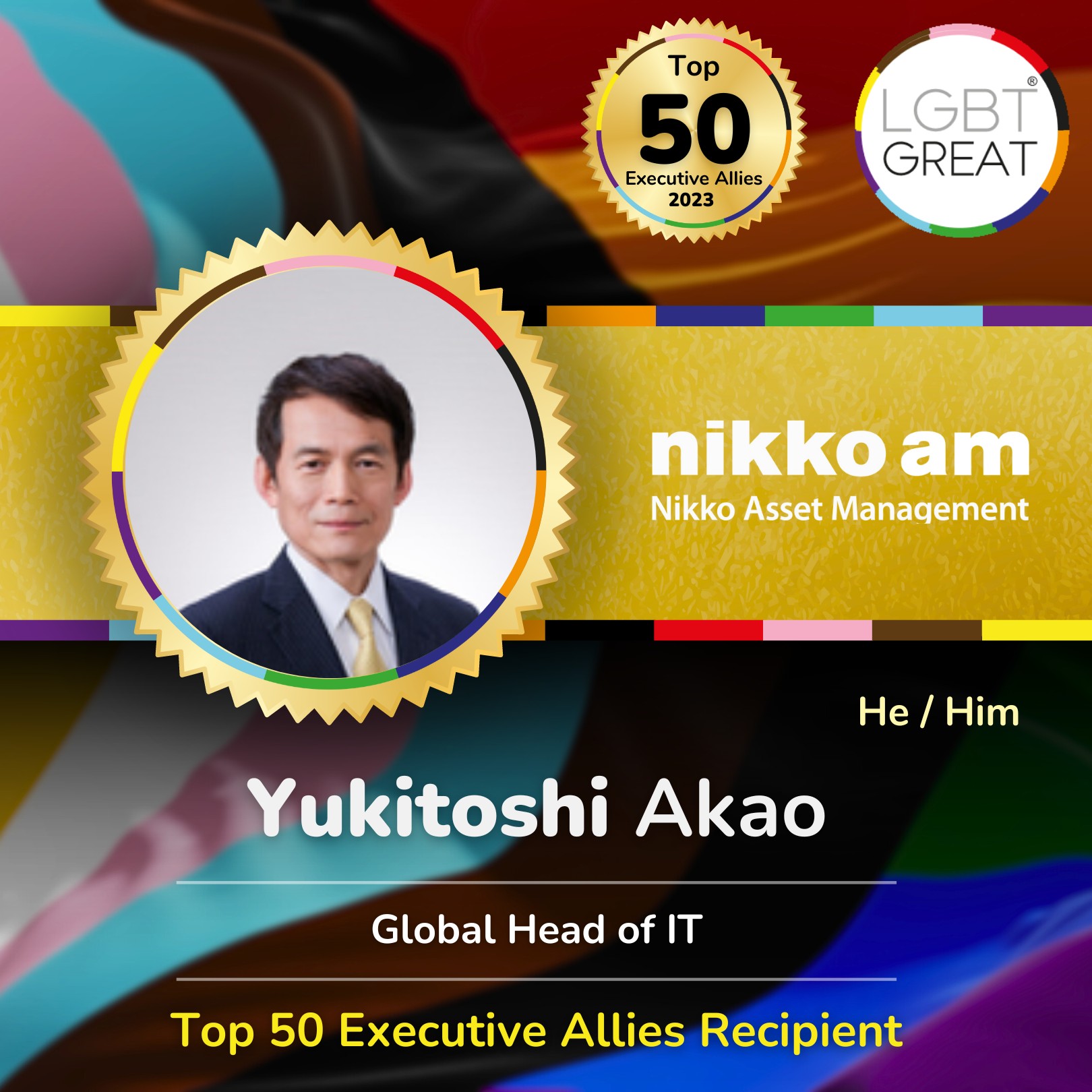 Group Executive Sponsor Kunihiro Asai commented, "The establishment of the Japan LGBTQ Group was a pivotal moment for Nikko AM. It symbolised our willingness to lead by example, creating a welcoming and inclusive space for all our employees."
The efforts of Nikko AM towards achieving an inclusive environment extend beyond these public events. We believe in a strategic, structured approach that infuses diversity and inclusion into every aspect of our business operations. For example, providing benefits to employees in Japan who have same-sex partners. We are resolute in our pursuit of creating a workplace that respects and celebrates differences, bringing us closer to a future where everyone feels included.
Executive Chairman Yutaka Nishida commented, "We recognise the value that each individual brings to the table and embrace diversity, seeing it as an asset rather than a challenge. We are steadfast in our commitment to promoting equality and inclusion at Nikko AM and beyond."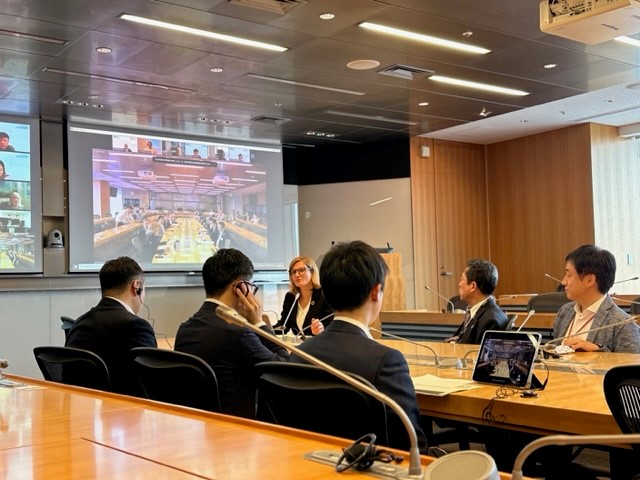 President Stefanie Drews concluded, "Participating in Pride Month isn't about one-off events; it's about committing to ongoing change. It's about educating ourselves, challenging bias, and creating a more equitable world. This is the vision we hold at Nikko AM, and we will continue to uphold these principles and lead with pride."
Back to Sustainability