Welcome to the Nikko AM KiwiSaver Scheme
5 great reasons to choose us
We actively manage over $5 billion of investments (as at 28 Feb 2018)
We're solely in the business of investment management
We manage investments for corporate superannuation schemes, community trusts, charitable trusts, foundations, financial planners, banks, insurance companies and KiwiSaver Schemes
We're part of one of Asia's largest asset managers, providing high-conviction, active fund management across a range of Equity, Fixed Income and Multi-sector strategies
We're award winning! We were named Morningstar 2018 Fund Manager of the Year, New Zealand and INFINZ Chapman Tripp – Fund Manager of the Year – Equities 2017

Morningstar Awards 2018©. Morningstar, Inc. All Rights Reserved. Nikko AM nominated for Fund Manager of the Year New Zealand.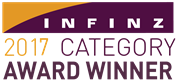 What funds we offer
Conservative Fund

Balanced Fund

Growth Fund

NZ Cash Fund
NZ Corporate Bond Fund

Core Equity Fund

Global Shares Fund

Option Fund
We also offer a selection of new retail funds, please contact us if you would like to find out more. Please note the current promotion of no management fees does not apply to retail funds.
For more information on these funds please refer to the Product Disclosure Statement (PDS)